Meet our Bama By Distance Admissions Counselor, Michele Butler!
How do I apply to the program?
The process for applying and being admitted to The University of Alabama varies somewhat depending on whether you are an entering freshman or a transfer student, whether you are a domestic or international student, and whether you are a first-time Freshman, transfer, or post-graduate student.
Transcripts
As part of the application process, you must have official transcripts sent from ALL colleges you have attended. Official transcripts should be mailed to:
University of Alabama Registrar
Box 870134
Tuscaloosa, AL 35487
Application Deadlines
Applications are due the semester prior to when you plan on taking classes. The application for admission, the application fee, and any required documents are due to Undergraduate Admissions by their final submission due date.
Applications typically take 6-8 weeks to process depending on the type of application and if a review of transcript is required. We recommend that you follow the schedule below to ensure sufficient time to process your application, review your transcripts, and be advised before classes begin.
| Submit application and all required documents by: | To take classes by: |
| --- | --- |
| October 1st | Spring semester |
| March 1st | Summer semester |
| June 1st | Fall semester |
When does the program begin?
At this time, you can begin our Food and Nutrition program in the fall, spring, or summer. Check our academic calendar for when those terms begin and other important dates.
When should I complete the 2 science courses not offered online through UA?
UA does not currently offer CH 104 or CH 105 online, and they are prerequisites to many of the nutrition courses. The department strongly recommends students to take these courses locally or online through another community college or university prior to enrolling in the Food and Nutrition Program. Students may complete all other degree requirements online through UA. Check out Module 5 for courses that require assignments or practical experiences outside of the online portal.
To determine if your local school has classes that will transfer to The University of Alabama, check the Transfer Equivalency Tables.
Transfer Students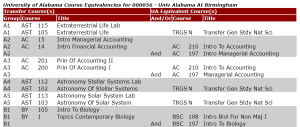 Transferring to another university is often accompanied with lots of questions. How many of my credits will transfer? Will I have to retake anything? What if their requirements are different? Is it going to push my graduation date back? Once students are admitted, they will meet with an advisor to address all of these questions and more. Get a sneak peek at the curriculum and learn more about academic advising in Module 4.
The University is not able to evaluate transcripts or advise students prior to admission. However, transfer students and post-graduate students may utilize the transfer equivalency tables. This tool will show the UA equivalency for undergraduate courses taken at another institution. Please note that courses transferring with a 197/397 course number are for elective credit only.
International Students
International students at The University of Alabama join a community that is culturally, academically, and economically diverse. International students who are interested in pursuing a degree from The University of Alabama should first contact the Admissions Office for International Students
If you already have a bachelor's degree, you will need to apply to the University in order to have an official transcript evaluation. Transcripts will be evaluated only after you have completed the admissions process and have been accepted for post-graduate studies at the University.
What do I need to do if I have transcripts from a foreign institution/university/college?
All students who took courses or earned a degree from a foreign institution should first have their transcripts officially evaluated by one of the following approved Foreign Credential Evaluation and Translation agencies:
Students should have the agency send official evaluation results to The University of Alabama and to:
Food and Nutrition Department
Attn: Distance Learning Advisor
P.O. Box 870311
Tuscaloosa, AL 35487